The Google Business Profile Guidebook​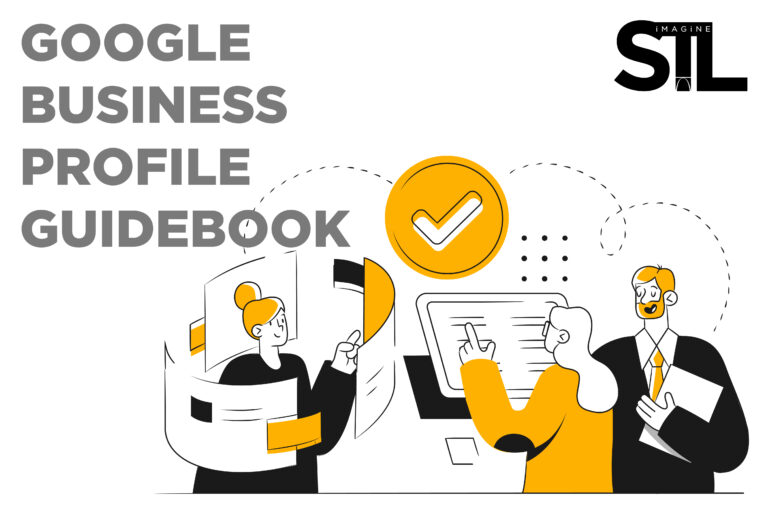 As a local business, having a Google Business Profile is essential for being found by potential customers. But creating and managing a profile can be a time-consuming and complex task. That's why we've created The Google Business Profile Guidebook – a comprehensive guide that will help you optimize your profile and attract more customers.
In this guidebook, we'll cover everything you need to know about creating and managing a Google Business Profile, from setting up your profile to responding to customer reviews. We'll provide you with tips and best practices for optimizing your profile, improving your search engine rankings, and increasing your online visibility.
Whether you're new to Google Business Profiles or looking to improve your existing profile, this guidebook has everything you need to know to succeed. So, let's get started and make sure your business is found by the customers who need it the most!
What Is a Google Business Profile and Why Does It Matter?
A free web tool offered by Google, Google Business Profile helps local businesses gain visibility on local search results. Whenever users search for local businesses or services, they usually begin their customer journey with a Google Search. The importance of being found through relevant search terms for those services cannot be overstated.
Owners of local businesses can control and improve their visibility on Google Search by using Google Business Profile. You can help your business stand out against your local competitors by optimizing your page.
If you occupy as much space on the web as possible, especially on Google, you will be more likely to be seen and heard by your customers.
You should include Google Business in your overall marketing strategy, including your website and other advertising channels to increase your ROI.
A Google Business Profile can be used to improve foot traffic for different branches of a business.
Something to note so you don't get confused: Google Business Profile was formerly name Google My Business but changed names in 2021.
If you're setting up a Google Business Profile for the first time or just managing one, here are some terms you should know.
Local 3 Pack (Map Pack)

As part of its organic search results, Google displays the top 3 GBP profiles. These profiles include business names, ratings, reviews, an image, operation hours, location, and a brief description of the product or service offered.

Google Posts

You can create postings with a photo and a caption, just like on Instagram or Facebook. The Google Posts tool is vastly underutilized. Upon clicking on the search result listing, searchers receive more information about the post. You can find the posts under the address and contact information. A variety of information can be posted, including events, promotions, updates, and product launches.

Google Guaranteed

A badge that appears on a GBP with a white check mark within a green circle. It is necessary for a business to pass a screening and verification process in order to receive this badge. There is a cost associated with this Guaranteed badge of around $2,000.

Reserve with Google

From a business's profile, consumers can reserve a table or book a service appointment.

Local Citations

In this case, it is simply any online listing that includes a business's name, contact information, address, description, etc. To ensure your business is accurately represented in local citations, it is important to be aware of them. A prime example is GBP, along with Facebook, Yelp, Yellow Pages and Bing. An organization, such as the Chamber of Commerce, or a blog can also provide citations.

Google Profile Performance

Business Profile Performance lets you know how many people viewed your listing, where and how they found it, their actions (like visiting your site or calling your business) and any other actions they took.
The Pros and Cons of Google Business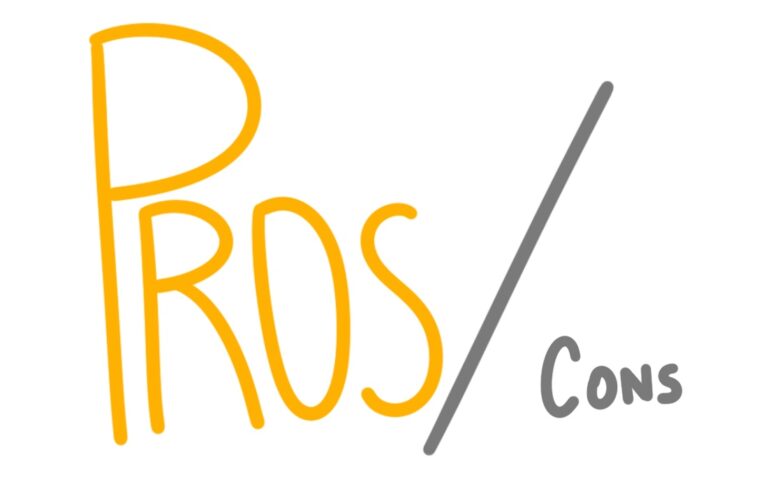 So we've explained what a GBP is and what terms are associated with an account that you should be aware of. What are the pros and cons?
Google Business Profile Pros:
Local SEO

Collecting reviews

Business info directly from the search engine

Marketing and communication tool

Google My Business Insights and its benefits for analytics

Free of cost

Ease of Use
Google Business Profile Cons:
Upkeep to compete with competitors

Must have some knowledge of Search Engine Optimization
Example of Google Business in Use​
When you Google "Best food in St. Louis," the local 3 pack comes up first. 
Stacked STL is number one for more reasons than just having good food.
They post fresh photos, they have lots of reviews that they respond to, they have a detailed description of who they are and what they sell, and they give key business information like when they are open and where they are located.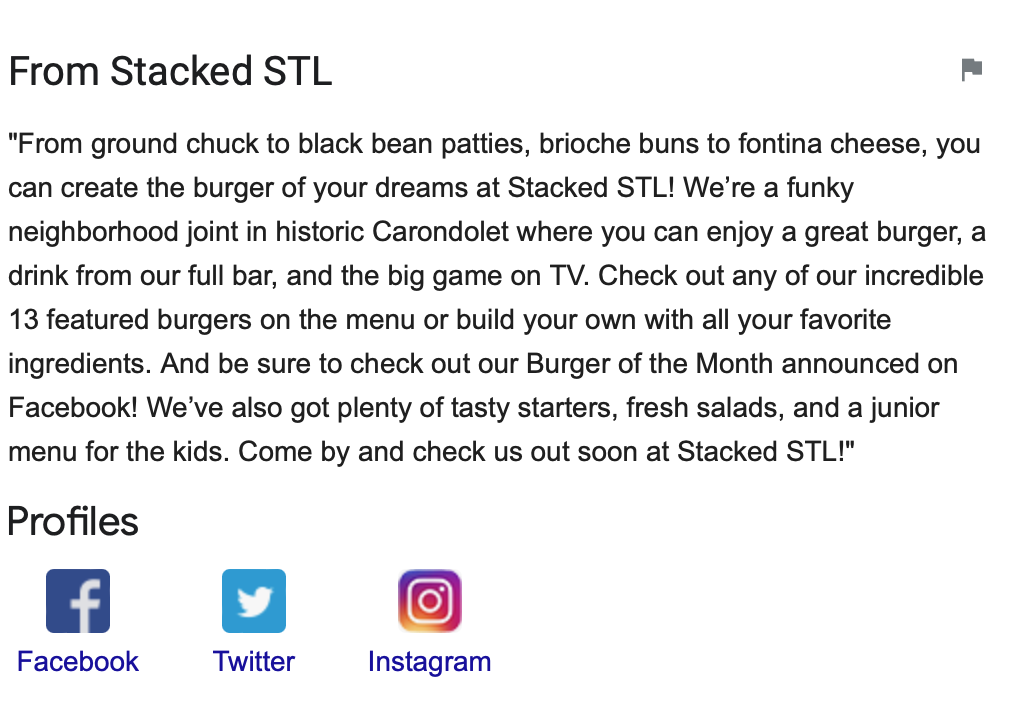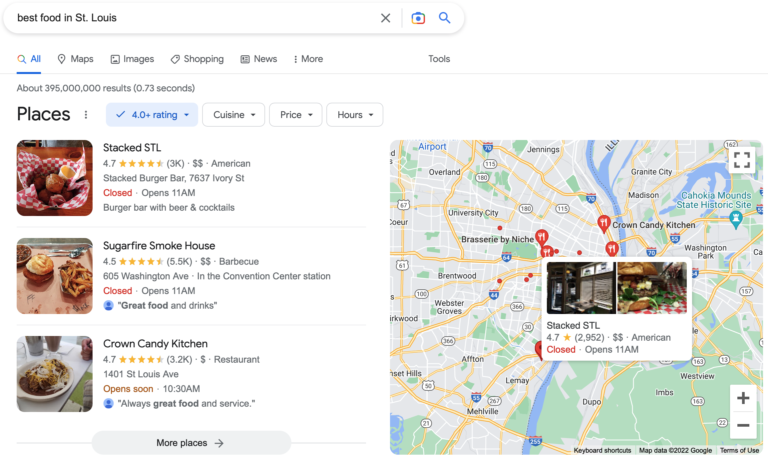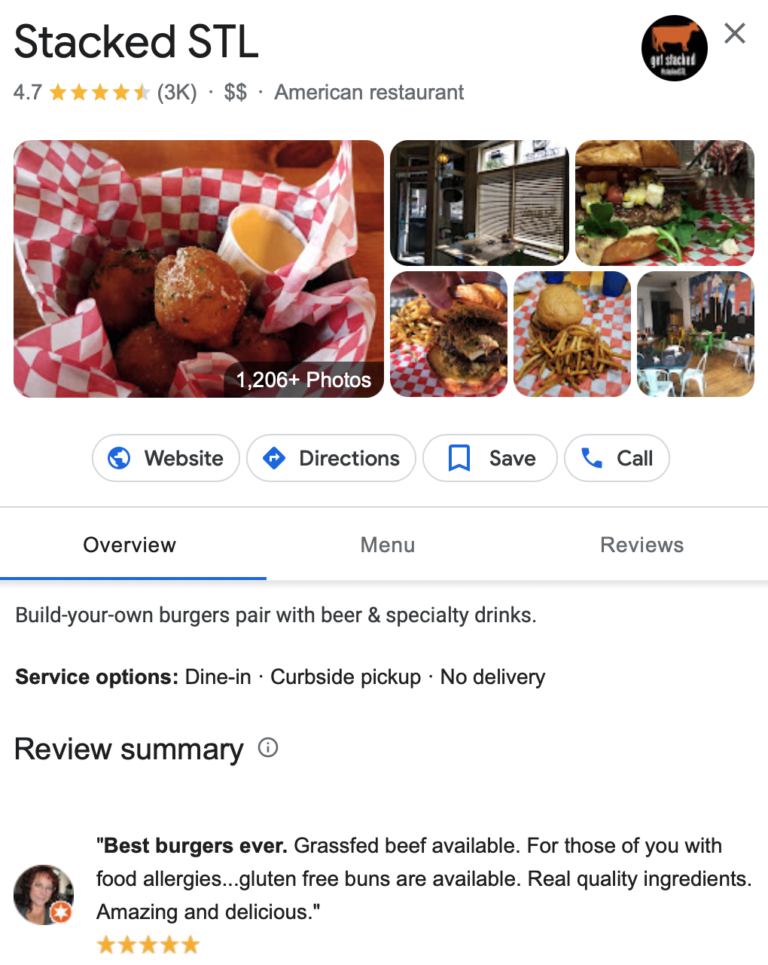 How to Manage Your Google Business Profile
You can manage your Google Business Profile in Search
The Business Profile Manager makes managing my business profiles a breeze.
Google is pushing single-location merchants to use Google Search instead of Profile Manager to manage profiles.
You'll need to sign in to your Google Account in which manages your business account to start.
You can enter your exact business name into Google (you may need to add your city), or you can type "my business" into Google.
You can view a specific Business Profile if you have more than one profile.
On the right side, you'll find your company's Knowledge Panel and on the left, your Business Profile.
Menus and Chips can be found in the management section of search.
You can manage your Google Business Profile using the menu. You can edit your profile here, add updates, include products and services, etc.
In addition, you'll be able to see any updates and changes Google might make to your profile based on what it finds online or based on edits suggested by you.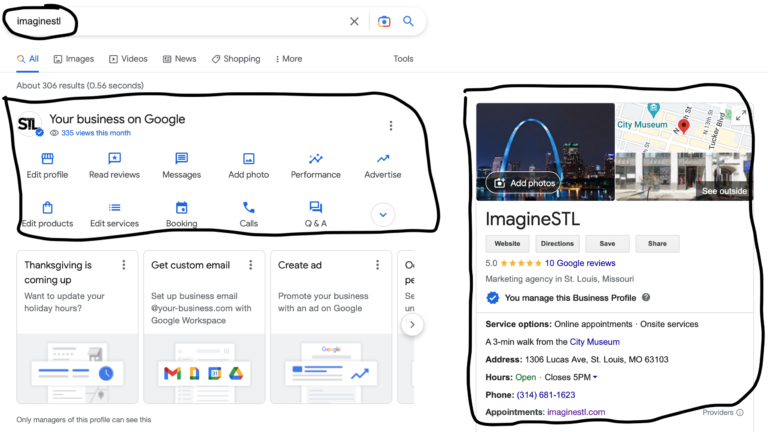 Below are brief descriptions of each menu section:
Edit profile
Here are some things you can do:
Information about the business – hours, contact information, website URL, etc.

Product and service additions and deletions.

You can upload photos and videos.
Promote
You can check these insights, add photos, create posts, ask customers for reviews, and get a shortened URL here.
Customers
Reviews can be read and responded to, inbound calls can be viewed, and Q&A questions can be answered.
Chips
A variety of "chips" are also available in the Business Profile management section. These chips allow you to improve and optimize your profile in a variety of ways.
It is possible that your chips look different from those of another merchant. See what you can do with the various chips available to you.
You can upload a photo of your storefront or office building's exterior by clicking on the "Add exterior photo" chip.
Take advantage of these chips to maximize and optimize your Google Business Profile
5 Tips for a Well Optimized Google Business Account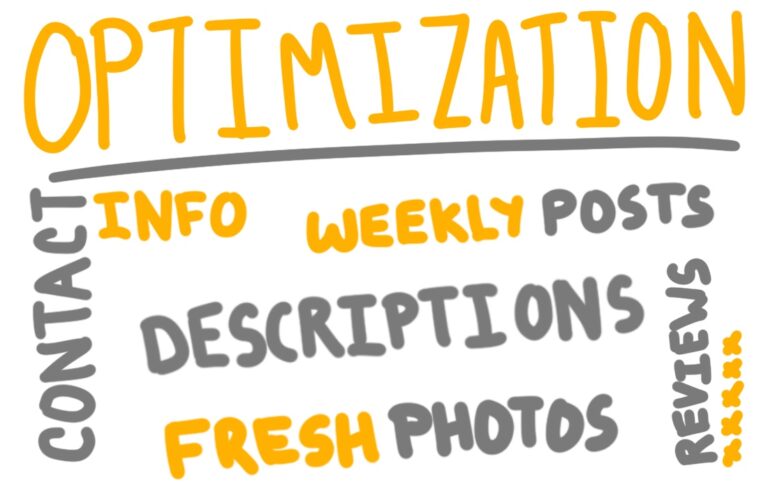 Make Sure Your Contact Info Is Correct
Business profiles often struggle with contact information, despite its obvious importance. Double-check the following when populating your profile:

Name of your business. Names on signage and logos must match those on your profile. Google will flag your post as spam if you add additional details like a location name or keywords.

Your address. Make sure your address listing is accurate. It is important to use consistent abbreviations across your website, social media presence, and more. Your account may be flagged for inconsistencies if the difference between "court" and "CT" is not obvious.

Your hours. Post carefully-checked hours to avoid negative reviews. The customer is bound to be upset if they arrive at your business and discover that it is closed! Keep your GBP hours up-to-date. When business hours are subject to change, don't forget to indicate holiday hours as well.
Optimize Descriptions
Your business description should include the following:

Name of your company

What you do as a business

How your business adds value

Business location
Post Fresh Photos
Your business profile must include photos

Weekly uploads are a good goal

Make sure your cover photo is relevant

For specifications, refer to Google's photo guidelines

Include photos of your building, staff, and customers enjoying your services

Don't use stock photos

Display your business's best side with high-quality photos

When possible, use geotags

Incorporate videos whenever possible
Encourage Reviews
It should be at the top of your optimization list since Google considers reviews an important part of a business's ranking.

Customers should be encouraged to leave reviews, both loyal ones and new ones.

Use a shortcut link to make it easy for customers to leave reviews.

Your website should include a call to action.

Reviewers should be highlighted for their positive contributions to the consumer community.

Make sure reviewers know they are being heard by communicating with them.

Discounts and gifts are against Google's policies.
Make Posts Regularly
Posting on your Business Profile should be done with intention, just like developing a social media strategy.

Post frequently. Regularly post content to keep your feed alive.

Keep customers informed about upcoming events. Post announcements and reminders about upcoming events to generate buzz.

Make use of calls to action (CTAs). Every time you post, use linked CTAs to invite action.

Communicate. Continue to inform guests about what you are doing in the community.
View the full article for optimizing your profile here: 5 Tips for Google Business Profile Optimization
Resources for Google Business
For any updates to Google Business, Google is a great resource. Keep up with these updates to stay ahead of the curve and, more importantly, ahead of your competitors.
Google's search users and business owners that operate a Google Business Profile often see small changes each year to better the platform.
Summary of Google Business and Why It's Important
With Google Business Profiles, you can manage how your business appears on Google Search and Maps. The steps include adding your business name, address, and hours; monitoring and responding to customer reviews; adding photos; learning where and how people are searching for you, and more.
The local three pack requires a well-optimized Google Business Account that includes frequent photo updates, postings, reviews, and other helpful information. Your goal is to be at the top!
Imaginestl Offers Google Business Profile Management for Businesses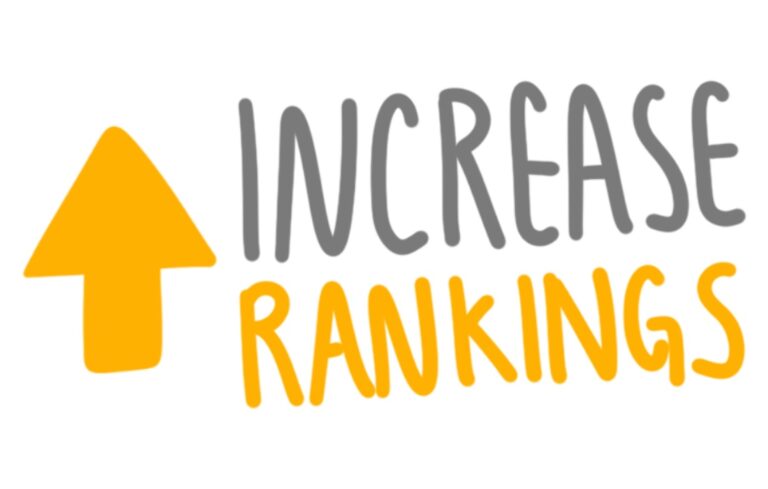 With ImagineSTL, we will enhance your Google Business Profile to keep you in front of the right target audience and increase your rankings!
Our Google Business Profile Management Services include:
GBP Management

Local & Niche Citation Building

Duplicate & NAP Optimizations

Targeted Services Area Optimization

Multiple Photos + Posts

Detailed Automated Reporting

Competitor Link Intersect Building

Review Monitoring

Q&A Management

Product & Service Management 

Local SEO Audits

Identify & Fight Spam Listings

Dedicated Account Manager
Get in touch with one of our Google Business Account Specialist today!