How to Create a Google Business Profile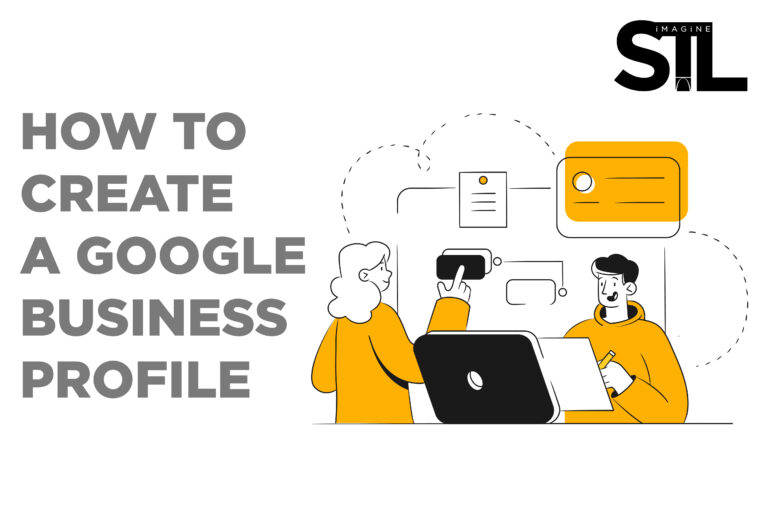 Are you a business owner who wants to join the online world and open doors to several opportunities?
If yes, the first thing you need to do is to create a Google Business Profile so you can start building local SEO and reaching new clients.
This post will act as a step by step guide for setting up your Google Business Profile for success.
What Is a Google Business Profile, and Why Does It Matter?
If you're a small business owner, you probably already know about Google Business. But are you leveraging it for free exposure and leads?
Google Business Profile is a free tool that helps local businesses manage their online presence across Google Search and Maps. It's the best way to ensure that potential customers can find your business online.
Everything from your business hours and address to photos, reviews and more can be added to your GMB listing. With so many products and services in your business category, it's important that you stand out from the crowd by offering something unique and valuable to customers.
Add photos of the inside and outside of your business using Google My Business' photo uploader tool. This will give potential customers an idea of what they'll see when they visit your location in person. It also helps them identify your brand if they spot it on other websites or when someone mentions it in conversation with friends or family members who've already visited your shop or office at some point in time since its last update date was posted there on
For an in depth look at Google Business, view our Google Business Profile Guidebook!
When people can find your business online, they are more likely to believe that you have a legit business. This can help you improve your reputation and boost your sales. 
Step 1 - Create a Google Account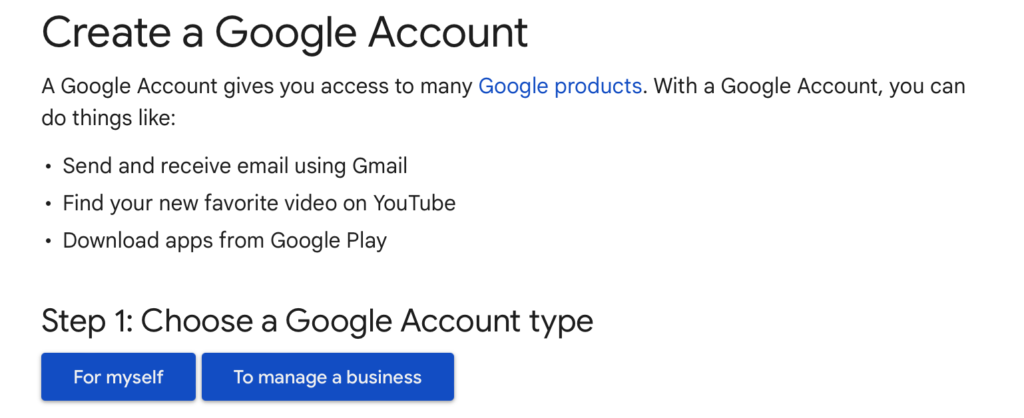 To start, you need to create a new Google account. You can move on if you already have an account you want to associate with your business.
You can either create a personal account or a business account to make a Google Business Profile. A business account makes it easier to manage your Google Business Profile.
Create your account by following this link to Google's sign in page.
Once your account is verified, head over to the Google Business site.
Sign into the google account that you want to associate with your Business's profile.
Search for the name of the business you want to add and see if there are any duplicate listings with the same name. If there are not, select, "create a business with this name."
Step 2 - Add the Name of Your Business and Address
Make sure your business name and address are accurate in your Google Business Profile.
This will help people find your location when searching online or using mobile devices.
Step 3 - Determine the Category
In the US, there are about half a million Google My Business listings, but only about 1% are active.
Choosing the right category is the fourth step in getting your business listed.
Here is a list of categories that should assist you in deciding which business category is right for yours:
Restaurant:

If you're a bar, lounge, or nightclub, choose "Food & Drink" instead.

Salon/spa:

If you don't provide spa services, choose "Health & Medical" instead.

Retail store:

If you're an online retailer, choose "Shopping & Services" instead.

Professional services:

If you offer professional services such as accounting or legal help, choose "Professional Services" instead.
This will also cover doctors' offices and medical clinics if they don't offer physical exams and treatments themselves (and therefore wouldn't be classified as medical clinics). For example, if an attorney offers legal advice over the phone, but doesn't meet with clients in person or represent them in court, he's still considered a professional service provider even though his services aren't technically provided in person because he doesn't meet with clients face-to-face).
Step 4 - Include Contact Details
Your Google Business Profile listing should include your contact details. You may not have much information when you're just starting out, but it's important to gather as much as you can.
Make sure your contact information is accurate as you build your business profile and add more information.
Your contact details should include:
Business Phone Number

Website
Step 5 - Verify Your Business Profile
Upon submission of all the above information, you will need to verify that you are the business and contact you claim to be.
Verify that all of your information is correct so that Google can send the confirmation to the correct address.
A postcard with a confirmation code will be mailed to you within 7-14 business days. Your business profile will be verified once you enter the code into your Google Business Profile.
Tips and Reminders for Optimizing Your Profile
View the links below to learn how to optimize your profile!
Set Up Your Google Business Profile for Success
To set up your account for success you need to do the following.
Create a Google account

Add the name and address of your business

Determine your business category

Include contact details

Verify your business
After you set up your account, you will want to start posting updates and adding photos to optimize your profile for more traffic!
Here's ImaigneSTL's 5 Tips for Google Business Profile Optimization
ImagineSTL Offers Google Business Profile Management and Optimization Services
With ImagineSTL, we will enhance your Google Business Profile to keep you in front of the right target audience and increase your rankings!
Our Google Business Profile Management Services include:
GBP Management

Local & Niche Citation Building

Duplicate & NAP Optimizations

Targeted Services Area Optimization

Multiple Photos + Posts

Detailed Automated Reporting

Competitor Link Intersect Building

Review Monitoring

Q&A Management

Product & Service Management 

Local SEO Audits

Identify & Fight Spam Listings

Dedicated Account Manager
Request a free Google Business Profile audit from ImagineSTL today!